#ColorCanvas Cream Blush. 
These cream blushes have a satin finish that will keep you looking healthy and fresh. They are the perfect accessory to any look for a soft flush of color to a build-able pop of color. They each contain 8grams of product, are fragrance free, easy to blend, vegan, and cruelty free.
Related Products
---
Customer Reviews
ItsJustMyssy
United States
08/21/2020
Super Pretty!
This cream blush is EVERYTHING!!! Super creamy. Very blend-able. Not heavy or thick. Gives a nice smooth texture and is build-able from subtle to shook, depending on the look you want to achieve. I definitely would HIGHLY recommend this product!! In this photo I am also wearing the highlighter in the shade "Night Light" and Lip Aesthetic in shade "Propaganda". All of these products are beautifully made, easily applied and superbly packaged. I have yet to receive a product from Hank & Henry that I didn't thoroughly enjoy using. Papa Owl ALWAYS comes through!! Hooty Whoooo!!!!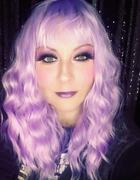 Starstruckbeautyxx
United States
08/21/2020
pretty in pink
this pink is such a pretty shade but again these are so good cause the formula blends so very well!
Hollie C.
United States
08/19/2020
Beautiful
Love the color but not for my skin tone
Lanessa
United States
08/17/2020
omg yes
I've never been one for cream blushes but this one was amazing so pretty and light and not sticky. Loved it
sam
United States
08/10/2020
So good
This cream blush is so good. It's buildable either using your fingers or a brush. Really pretty, easy to blend out, and fun to mix with other cream blushes in the line.